Neighbourhood Character and Heritage
Strategic objective
Protect the heritage and respect the character of the City to maintain amenity and liveability whilst recognising the need for appropriate, well-designed development for future generations.
Key figures
$5.7 million net operating cost
1,338 planning applications received
2,710 building permits issued within Boroondara
Achievements
Review of the Camberwell Junction Structure Plan (CJSP)
Commitment
Review the Camberwell Junction Structure Plan (CJSP) and investigate the introduction of planning controls to ensure appropriate development in the centre.
Project Overview
The review of the CJSP when completed, would introduce statutory built form controls into the Boroondara Planning Scheme to guide appropriate development in the area. Community and stakeholder engagement forms a key part of the review.
An updated CJSP also provides the opportunity to align with Council's Placemaking Framework, which enhances our community's quality of life.
Project Aims
A key aim of the CJSP review is to implement planning controls that are informed by an analysis of preferred built form and land use, spaces and access requirements that meet the current and future needs of the community.
Project Outcomes
Scoping of the CJSP has commenced and some early community consultation has occurred. 
There will be further opportunities for the community and stakeholders to share their feedback on the recommendations contained in the updated CJSP. 
The updated CJSP is expected to provide benefits to the community such as:
Planning controls that give certainty and ensure appropriate development.
Promoting sustainable transport.
Improvements to public places and community facilities.
Improvements to the character and amenity of the centre.
Summary of Other Achievements
During the year, Council has made significant progress in finalising the Municipal Wide Heritage Gap Study and identified additional properties for inclusion in the Heritage Overlay.
Continued to work with the community and stakeholders on a review of the Camberwell Junction Structure Plan.
Implemented the Statutory Planning Paperless Office project which enabled Council to identify and implement more streamlined online and electronic processes, thus reducing timeframes and providing greater convenience to customers.
Challenges
The Victorian Building Authority (VBA) introduced a new legislation, whereby owners are required to register their pool or spa with their local council. In response to the changes, Council developed a new communications strategy, website content and registration form for pool and spa owners. As a result of the new legislation, Council experienced a significant increase in requests for building permit information, which saw 1,659 requests made in quarter four compared to the 298 requests in quarter one.  
The COVID-19 pandemic saw an initial deferral of Victorian Civil and Administrative Tribunal (VCAT) hearings, which are now proceeding through tele or video conferencing. Boroondara was chosen by VCAT to pilot video conferencing.
Council continues to play a major role in dealing with public and multistorey residential buildings comprising of combustible cladding in Boroondara. It has been a challenge to enforce and seek resolutions with multiple Owners Corporation managers, the State Government and the Victorian Building Authority (VBA).
 
Building permits approved within 30 days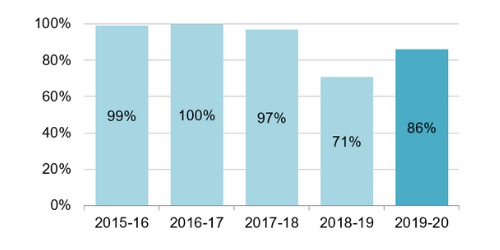 Planning applications processed within 60 days