Your Parks and Green Spaces
Strategic objective
Inviting and well-utilised community parks and green spaces.
Key figures
$16.8 million net operating cost
1,923 new trees planted during the year
437ha of open space maintained 
 
Achievements
Sporting Facilities Upgrade
Commitment
Implement year one program actions to deliver accessible facilities enabling increased participation in sport.
Project Overview
Female participation in sport has been increasing in Boroondara. This increase has been seen by an improvement in player numbers and a rise in seasonal allocation ground requests from sporting clubs.
Through our Diversity, Inclusion and Participation (DIP) Program, Council will upgrade seasonal sporting pavilions across Boroondara to support participation for all.
Council has allocated a budget of $9.40 million to upgrade these facilities over a three year implementation program, commencing in 2019-20.
Project Aims
The DIP Program aims to ensure pavilions provide a more inclusive environment and greater participation opportunities for diverse sectors of the community.
Improvements will be made to wet area amenities based on universal design features, including:
Lockable showers and toilets in change rooms and umpires rooms.
Dedicated (non-shared) wet areas for each change room.
Construction of additional change rooms at some locations.
Construction of a first aid room at some locations.
Safety park lighting in high foot traffic areas around the pavilion.
The pavilion improvements aim to improve accessibility and ensure women and girls in particular feel safe and welcomed when participating in sport.
Project Outcomes
Feedback received from sporting club representatives and users during consultation has been considered as part of a case by case assessment and has informed the project's implementation program.
Further consultation will be conducted for pavilions scheduled in the final year of the program, as well as during the design phase.
By June 2022, at the conclusion of the implementation program, 15 of Council's 39 sporting pavilions will be upgraded to be accessible and welcoming to all. 
Remaining sporting pavilions will be prioritised annually in line with Council's Pavilion Policy for renewals or upgrades based on building condition, functionality and service assessments.
Summary of other achievements
Implemented priority actions from the Shade Policy Implementation Plan to improve the provision of shade at key sites across Boroondara.
Sought feedback from the local community to help inform the design of the Victoria Park Regional Playground.
Satisfaction with appearance of public areas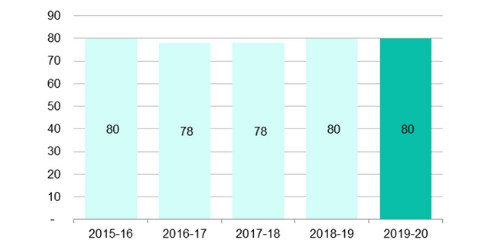 Area of land managed for biodiversity (hectares)