We understand the need to manage the water cycle – water consumption, rainwater, stormwater, waste water and waterways – in a sustainable way if we are to keep our city green, waterways clean and adapt to weather extremes.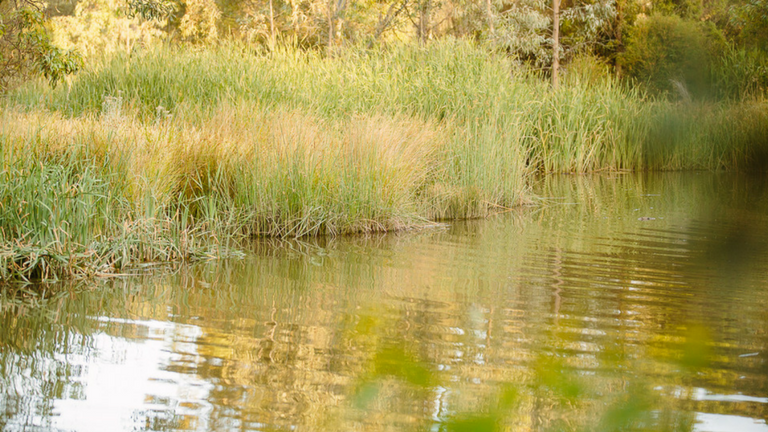 Our strategy and vision
Council adopted its Integrated Water Management Strategy 2014–24 in May 2014.
The strategy's vision is for '... a healthy, green and resilient city ... where a diversity of water sources is available so that the right quality of water is available when and where it is required ... contributing to healthier waterways and open spaces for greater community wellbeing'.
Objectives and targets
The strategy has 4 key objectives to achieve this vision:
Minimising the use of mains drinking water.
Increasing local water harvesting and 'fit-for-purpose' reuse.
Removing pollutants contaminating our stormwater before it enters our waterways and Port Phillip Bay.
Supporting local flood management activities to better protect properties from flooding while also protecting the environment, amenity and function of Council assets.
Targets have been adopted for the first three objectives, which help drive action and provide measures for annual monitoring and reporting on progress over time.
Objective
Council target by 2024
Community aspiration by 2024
Minimise use of drinking water
Reduce drinking water (mains) use by 20 per cent compared to 2011-12 levels
Reduce resident drinking water (mains) use down to 153 litres per person per day
Increase local water harvesting and reuse
Harvest an additional 30 mega litres of stormwater per year for irrigation of public open space
30 per cent of single dwellings install a rainwater tank by 2024. Half of these households connect their rainwater tank to internal uses, such as toilet and laundry.
Remove pollutants from stormwater run-off

Remove 182 tonnes of total suspended solids per year

Remove 360kg of total phosphorus per year

Remove 3000kg of total nitrogen per year

 
Projects and initiatives
Our activities are guided by the Integrated Water Management Strategy Implementation Plan 2017-19. Key initiatives include:
Monitoring and reporting
To monitor our progress, we regularly collect and analyse data and information that relates to a number of performance indicators.
Council progress indicators
Proposed progress indicators
Proposed monitoring method
Council mains water use
Annual inventory of Council's potable (mains) water use, analysed by facility type and site. High water using facilities are the focus of sub-metering and periodic monitoring.
Council use of alternative water sources:

Capacity of rainwater tanks at Council facilities
Capacity of stormwater storage for reuse
ML used per annum
Usage as percentage of annual irrigation demand

Commence data gathering during 2013–14 and establish baseline by 2014–15 for annual monitoring thereafter.

Note: the methodology for tracking ML/annum use will be determined as part of establishing the baseline.

Volume of annual pollutant removal via installed WSUD infrastructure
Modelled baseline (from 2011) plus annual additional pollution removed based on installed WSUD infrastructure (using Model for Urban Stormwater Improvement Conceptualisation (MUSIC) modelling).
The latest Council mains water consumption information from Yarra Valley Water and 2024 target is shown below. Carted recycled water refers to recycled water purchased from other sources such as the Brushy Creek treatment plant in Chirnside Park.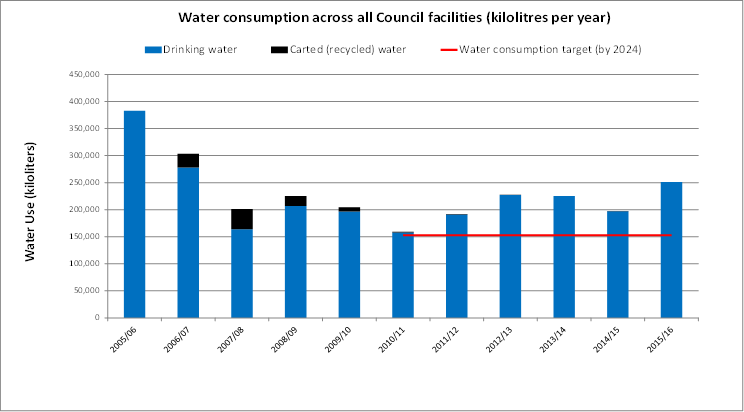 Community progress indicators
| Proposed progress indicators | Monitoring |
| --- | --- |
| Residential potable (mains) water use | Annual calculation of average residential use (per person, per day) based on data from Yarra Valley Water. |
| Percentage of single dwellings with a rainwater tank installed. Proportion of these households with tanks plumbed for internal uses. | Monitor via data from Yarra Valley Water derived from Victorian Rainwater Tank Rebate (Living Victoria Water Rebate Program or equivalent). |
The latest community water use information from Yarra Valley Water is shown below. The community aspiration of 153 litres per person per day by 2024 is shown in this figure. This equates to an 8 per cent reduction from 2011-12 levels.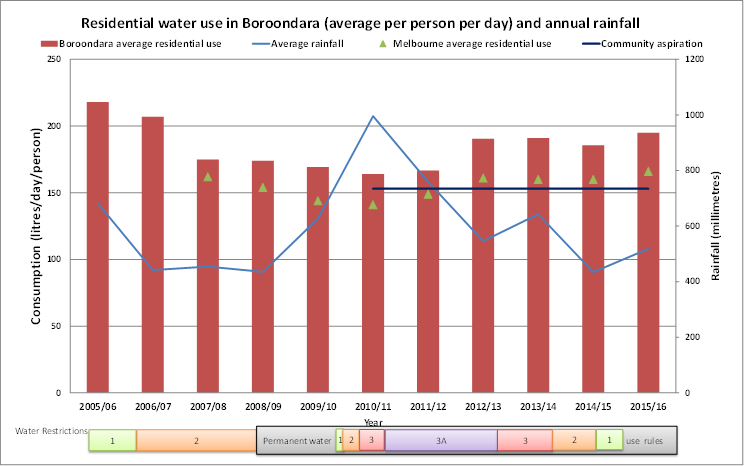 For more information, contact us on 9278 4011 or email Environment.
Useful resources
Yarra Valley Water has information from your water retailer about saving water and understanding the water and sewerage infrastructure around your home.
Melbourne Water has information on water sensitive urban design, raingardens, stormwater harvesting, flood management, river health and waterway protection.