Legal point of discharge
The legal point of discharge is a point, specified by Council, where stormwater must be discharged via the property's private drain.
As an owner, you are responsible for maintaining your storm water drainage system (drains and underground pipes even beneath the footpath) from inside your property up until the point of legal discharge. For example, from your downpipes to the kerb and channel.
To connect your property to the stormwater drain, you'll need to apply for a legal point of discharge.
When you apply, you will get a report showing:
the appropriate legal point of discharge
the location and connection type allowed
if there are easements on your property
if your property is in a flood zone, and information about the responsible authority.
Our report cannot provide you with information on the exact measurements, location and offsets of drains and pits.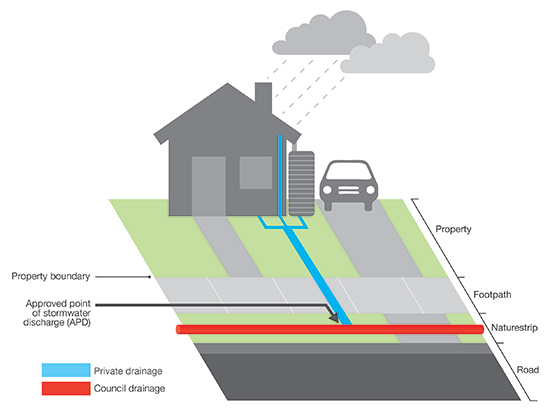 Our drain system only collects stormwater from rain that runs off surfaces.
You can't use the stormwater system to drain:
groundwater
wastewater (this must connect to the sewer).
You are responsible for managing groundwater on your property.
When to apply for a Legal point of discharge
You need to apply for a legal point of discharge if:
you are planning to get a building permit where building works include a stormwater drainage system
you are going to alter or impact the effectiveness of the existing stormwater drainage system on your property, like completing works that will increase the volume or flow rate of stormwater.
How to apply
Please note: you can only apply for a legal point of discharge if you are the property owner, or you are the owner's agent (for example, their builder or plumber). You cannot apply for a legal point of discharge for a property that you don't own.
Apply for a legal point of discharge
Include:
floor plans of your proposed development, showing ground floor and basement levels
your Certificate of Title, which you can get through the Landata website.
The application fee is $155.30 (non-refundable).
After you apply
After you submit your application, we will:
send you an email or SMS to confirm your application
respond to you within 10 business days
let you know if you need other permits.
Other permits and requirements
For works on any local roads you will need to apply for a Road Opening Permit. Find out more on our Opening a road page.
If your legal point of discharge is on a declared road you also need to get consent from VicRoads. You can find out more on the Working within the road reserve page on the VicRoads website.
Declared roads include freeways, arterial roads, and non-arterial state roads. You can check your road on the Map of DTP roads page on the VicRoads website.
Some properties might need other stormwater arrangements. For information on stormwater detention systems, visit our Stormwater detention system page.
More information
You can contact us for more information by emailing [email protected] or calling us on (03) 9278 4444.