We deliver a range of programs that foster social connections, including:
Excursions, both long and short, with door-to-door pick-up

in-house programs

over the phone social groups for people who are housebound or who would prefer to stay at home.
You can request a monthly program by emailing [email protected] or calling us on (03) 9278 4777.
Before you can use our services
To use our social support services you, or the person you are organising these services for, needs to be approved by My Aged Care to receive these services through the Commonwealth Home Support Programme (CHSP).
You can apply for an assessment by calling My Aged Care on 1800 200 422, or learn more about the services available and the fees on the My Aged Care website.
Following the My Aged Care assessment, our staff will need to visit the person interested in our social support services at home to discuss their needs and suitability for this program.
Fees apply.
Existing clients
If you already receive social support services from us and you have any questions, you can email [email protected] or call us on (03) 9278 4777 between 9am and 5pm on weekdays (except public holidays).
Excursion program
We offer a variety of excursions to help you stay connected and involved in community life.
Our trips include visits to:
galleries

music performances

historic homes

gardens

museums 

movie screenings.
Our excursions also include a stop for either morning tea, afternoon tea or lunch.
On the day of your excursion you will be picked up and returned to your home at the end of the trip. We also may be able to provide you with community transport to and from other activities, and we are always happy to talk about your transport requests with you. You can find out more about these options and how to access them on our Help getting around page.
 
Excursion participant Trudi Beiber from Balwyn North has been part of the program for years and absolutely loves it.
"My husband suffers from dementia, so it's been a great outlet for me to be social and mix with others my own age," Trudi said. "Each outing involves a different activity or venue, but some of my favourite excursions have been visits to the antique shops and listening to talks on road safety and driving tips for seniors. It's a great day out and I always look forward to the next excursion!"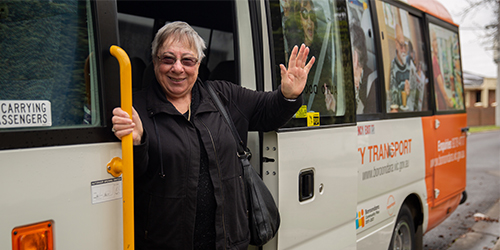 Events program
You are invited to add life to your years through a series of exciting events throughout the year, including the events during the Victorian Seniors Festival month in October each year. You do not need to be approved by My Aged Care to attend our events.
You can learn about upcoming events and how to make a booking to attend events on our Enjoy our musical event series for older adults page.
We can arrange transport to these events for eligible attendees. You can organise to be assessed for eligibility by registering for Community Transport. You can see more information on our Help getting around page.
Please let us know whether you need transport when you book a spot at one of our events.
Other social support providers
Events, classes, and activities
There are many other aged service providers in Boroondara that also provide regular outings and other opportunities for socialising. You can see what events, classes and activities are happening near you on our Activities for over 55s page.
Seniors clubs
We have almost 40 Seniors Clubs in our city, including:
U3As

Life Activities Clubs

Seniors Citizens Clubs

Probus Clubs.
We also have clubs from different cultural backgrounds such as Greek, Italian, Chinese, German and Vietnamese clubs.
You can find out more about these clubs on our Seniors clubs page.
Some support providers also offer friendly visiting programs where volunteers will call or visit a person in their own home. Contact My Aged Care on 1800 200 422 to find out more or visit the My Aged Care website.