Thinking of volunteering?
Whether you enjoy reading or chatting, want a quick project or a long-term commitment, have skills to share, or would like to learn something new, there's a volunteer role out there with your name on it!
Many opportunities are available right now in Boroondara and we can help you find the right one: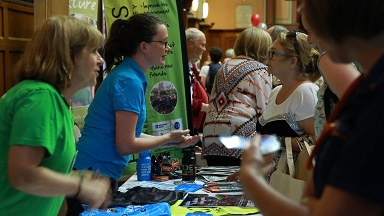 We list many of our opportunities on the GoVolunteer website. If you want to find out more, you can express your interest via the website and your details will be sent to us.
You can also contact the Boroondara Volunteer Resource Centre directly if you don't see anything you fancy on the GoVolunteer site, or you need help working out what you'd like to do, or you just want to chat about volunteering:
The BVRC refers over 1,000 prospective volunteers to community organisations each year and 91% of volunteers who used the BVRC referral service said they would recommend it to family and friends.
Volunteering ideas
Skilled volunteering
Use your professional skills, such as accounting, marketing, event coordination, writing, photography, web development and more. Join the Boroondara Volunteer Skills Bank.
Community organisations
If you would like to volunteer your energy or expertise with the many local organisations looking for support, we can point you in the right direction. See volunteer in community organisations.
Library services
You can help senior residents with computers, deliver books to house-bound residents, or just chat to locals whose second language is English. See volunteer with our library services.
Casserole Club
If you like to cook, how about volunteering for Casserole Club, a home-cooked meal-sharing project? See Casserole Club.
Boroondara Eisteddfod
If you like the arts, put your hand up for our prestigious Eisteddfod event, held from April to June each year. Volunteering opportunities generally start in November. See volunteer at Boroondara Eisteddfod.
Neighbourhood houses
The 10 neighbourhood houses and community centres in the City of Boroondara welcome volunteers to help with their services and programs. See volunteer at neighbourhood houses.
Ageing and disability services
Help our aged and disabled residents in their own homes or on community transport, or join them on social occasions. See volunteer with our ageing and disability services.
Local environment groups
Are you passionate about the environment and sustainable living? Volunteer with a local group to improve the sustainability of your life and local area. See local environment groups.