Indigenous plant vouchers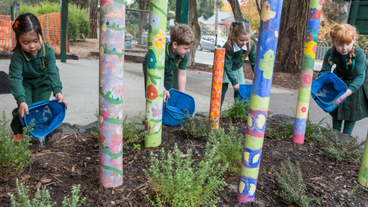 From March to June, schools and kindergartens in Boroondara can request a voucher for 50 indigenous (locally native) plant tubes for planting on school grounds. The vouchers can be redeemed at Victorian Indigenous Nursery Co-operative or Greenlink Nursery in Box Hill. To request a voucher, email Environment.
Mulch for your school ground
Free mulch is available to schools from the Kew Depot Recycling Drop-off Centre. Schools need a trailer to collect the mulch.
Backyard Biodiversity booklet and Guide to Weeds
These free, practical resources can help you plan habitat gardening projects. They are a resource for students to learn about local biodiversity and threats to local flora and fauna. See Backyard Biodiversity project for more information.
Classroom sets of biodiversity cards and poster
You can order classroom sets (10) of 'swap cards' featuring images and stories about local flora and fauna, and copies of our A2 poster featuring local wildlife and plants. To request copies, email Environment.
Excursions to local biodiversity sites
Some of the City of Boroondara's significant biodiversity sites make great destinations for class excursions. Students can learn about indigenous flora and fauna and changes that have occurred to the local environment over time. Suitable sites with interpretive signage include: