We have now completed detailed plans for the construction of a new wetland to be located in the eastern corner of Chandler Park in Kew.
This project will help meet pollution reduction targets contained in our Integrated Water Management Strategy 2014-2024.
The project will also deliver a key action from the Integrated Water Management Strategy Implementation Plan 2017-2019.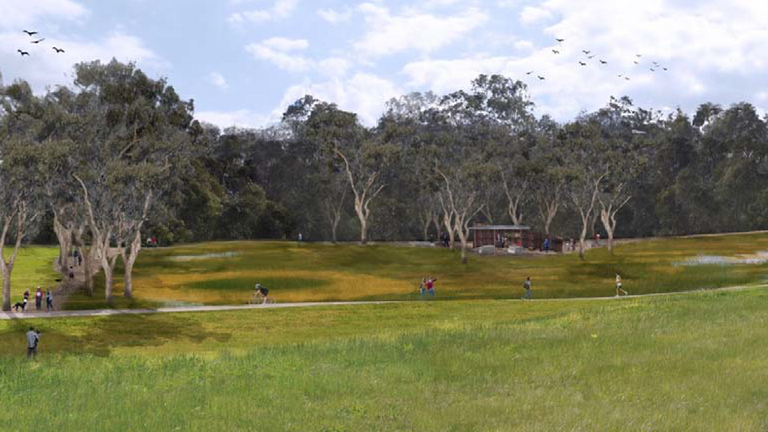 Benefits
The wetlands will hold and treat stormwater from a large residential catchment before it flows into the Yarra River. Project benefits include:
healthier waterways – less pollution in the Yarra River and Port Phillip Bay
enhanced recreational opportunities within Chandler Park
new habitat for native wildlife, such as frogs and waterbirds, complementing the billabong environment further upstream at Willsmere Park
feature wall and shelter for viewing wildlife in the natural environment and outlooks along the Yarra River
tree planting and improved landscaping
new furniture and seating and a walking trail connecting into the Main Yarra Trail
learning opportunities with a self-guided interpretive trail.
The wetlands will add further interest to the park, complementing the recently completed Wurundjeri Heritage Trail in the western section of the reserve.
Budget
Council has allocated $1.2 million in total for the project including $600K in grant funding comprising:
$400,000 awarded by Melbourne Water

$200,000 awarded by The Victorian Department of Environment, Land, Water and Planning (DELWP) Port Phillip Bay Fund for the project's role in helping to protect Port Phillip Bay.
Community consultation
In early 2016 we consulted with the community on the concept plan.
The consultation unearthed overwhelming support for the project and a high level of interest and enthusiasm.
The following issues were raised by respondents:
paths should be bike friendly and wide enough for mixed use
desire to maintain cycling opportunities along the river
dogs should be on a leash within vicinity of the wetland
 incorporate a range of plant species  to create a variety of wetland habitats for native fauna
need for additional seating along the main trail.
All of the suggestions made by residents and community groups were reviewed by the project team and, where appropriate, have been incorporated into the detailed design of the project. View the Chandler Park Wetland Landscape Plan
The final wetland design is in keeping with the concept design on which Council consulted. The additional grant funding has allowed the size of the wetland to be expanded. This will deliver both better environmental outcomes and enhanced recreational opportunities as requested through community feedback.
Read more about the consultation in the Chandler Park Wetland Community Consultation Report.
The draft concept design indicates the proposed location, size and shape of the wetlands and associated landscaping. View the Chandler Park Wetland Draft Concept Plan.
For more information about the proposed plan, email Environment.