What we are proposing to sell
We are proposing to sell the Serpells Lane car park to Swinburne University for the sum of $16,000,000 (plus GST). This 2,908m² parcel of land is located at 399 Burwood Road in Hawthorn. 
Our research has shown that the Council-owned land is underutilised, and is mostly used as a student and staff car park. It could be doing much more to benefit the Boroondara community.
Our traffic analysis reports show that car parking demand could be accommodated with the existing car parking areas in Glenferrie. There are 1,641 off-street public car parks in the Glenferrie precinct, including the Serpells Lane car park.
At the precinct's most busy period, which is between 11 am to 2 pm, typically up to 80% of this car park capacity is filled. That leaves just over 200 spaces available in the precinct – which more than offsets a loss of parking from Serpells Lane car park. At non-peak times, there would be even more available spaces. 
By selling directly to Swinburne University, we are supporting a development that will integrate the land into the existing campus footprint, while keeping some public car parking spaces. Swinburne plays an important role in our municipality and arguably offers community benefit beyond that which a private development may create. We want to ensure a positive outcome is achieved for the community by realising a return on this underutilised asset to enable investment in new projects to the benefit of the Boroondara community.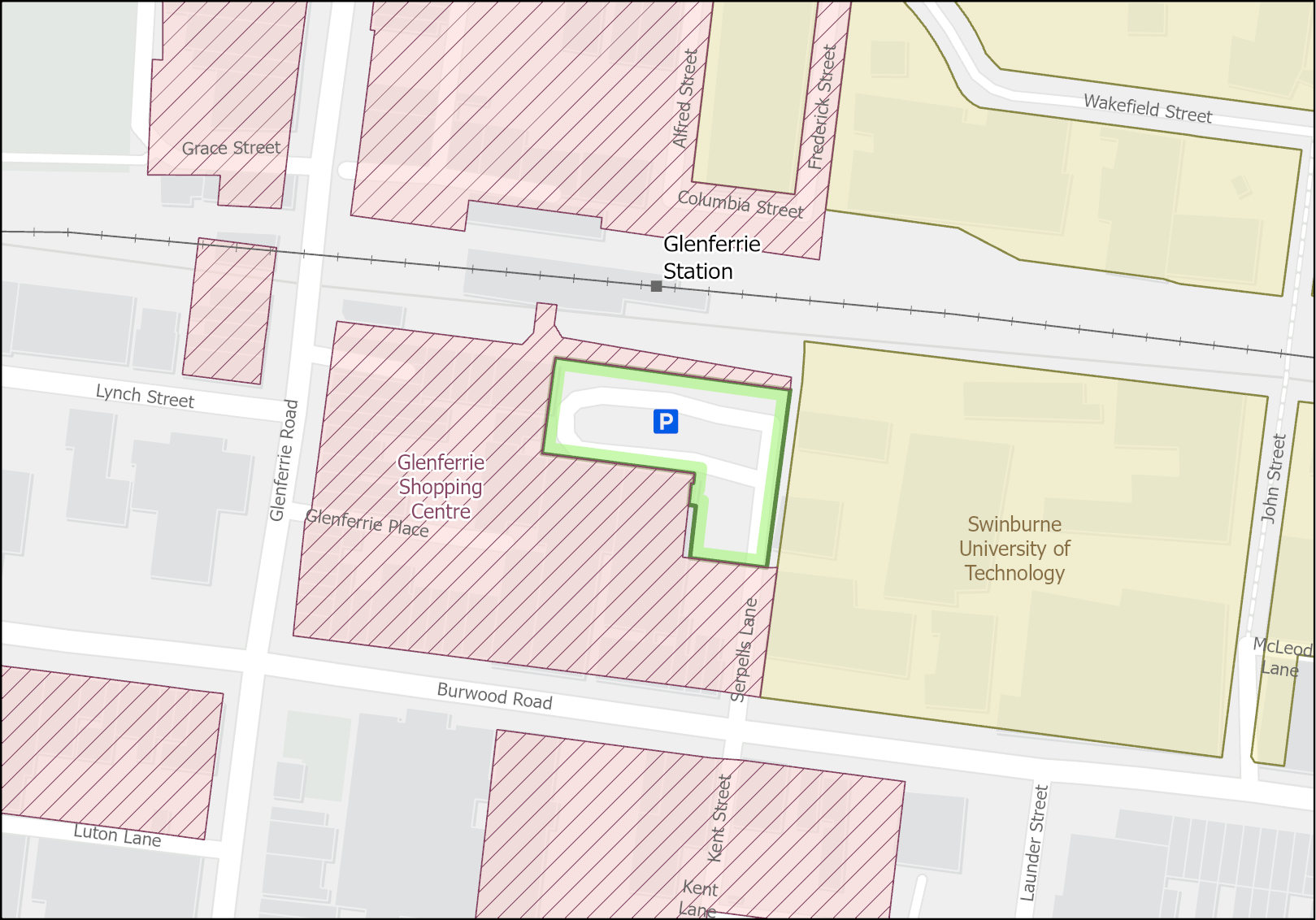 A map of Serpells Lane car park indicated by the P symbol. Pink areas with hatching represent the Glenferrie Shopping Centre precinct. Yellow areas represent Swinburne University.
Conditions of sale
Swinburne must provide Council with the details of its vision for the use of the site. This includes submitting a concept plan, which adheres to these conditions of sale, to Council before starting any development on the land. Swinburne commits to development providing either:

state-of-the-art classrooms, laboratories and technology-based research facilities for undergraduate and higher degree students and local visiting researchers; and/or
fit-for-purpose spaces for industry partners to work and collaborate with students and academics on campus.

The development must be in line with the Glenferrie Structure Plan, Glenferrie Place Plan and any other endorsed Council Plan or Strategy which applies to the site and surrounding area.
Swinburne must provide car parking for all new uses of the site, in line with the provisions of the Boroondara Planning Scheme.
Swinburne must also provide an additional 37 public car parking spaces at the Serpells Lane site or at another location as agreed by Council, above what the Boroondara Planning Scheme requires for the site. Two traffic analysis reports show that the car park is mostly used by people associated with Swinburne University, with the public using only 29 or 32 spaces. In addition, even at peak times, there is sufficient public parking available to offset any parking potentially removed in the development of the land. If the car parking spaces are provided at another location, then any existing public parking there must not be reduced in number. In addition, the parking fee charged for use of these spaces should be within 15% of the fee charged by Council for similar parking in the locality.
Have your say
Share your feedback on the proposal by 5 pm Tuesday 17 October.
You can:
compete our online survey at Engage Boroondara
email your feedback to

[email protected]

post your feedback using reference 'Proposed Sale of Serpells Lane' to: City of Boroondara, Private Bag 1, Camberwell Vic 3124
submit your feedback in person at our Council offices at 8 Inglesby Road, Camberwell.
You can also ask to appear at a Council or committee meeting in person or have someone represent you. Include this request and your contact information in your submission and we will notify you of the upcoming meeting after it's confirmed.
How we manage submissions and make our decision
We manage all submissions and personal information in line with the Privacy and Data Protection Act 2014 and our Privacy Policy.
We will consider all submissions received in time, then Councillors decide whether to sell the land or not to sell the land.
This notice is in line with Council's Community Engagement Policy.
More information
To find out more, visit Engage Boroondara.