Subsidised compost bins and worm farms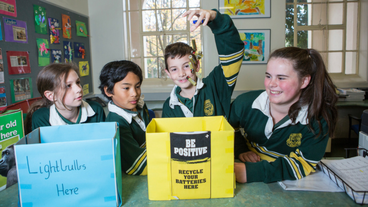 You can order subsidised compost bins and worm farms via our Compost Revolution website, and learn more about recycling food waste at home or school with the tutorials.
Waste and recycling bins
Schools and kindergartens can order:
a general waste bin
up to 3 recycling bins
up to 2 green waste bins (for a one-off fee).
To order bins please contact us.
Excursions to the Boroondara Waste and Recycling Centre
The Boroondara Recycling and Waste Centre offers tours for students to learn first-hand about recycling and reusing school and household waste, and the impact of waste disposal on the environment.
Classroom resources
Print our A2 waste, recycling and worm food posters to help everyone understand what can and can't be recycled and what worms can eat:
In partnership with the Gould League and Metropolitan Waste and Resource Recovery Group, we've developed a series of online activities and fun, interactive games to help everyone reduce the amount of waste going to landfill and to learn about recycling. To play the games, visit Playground.