Now in its 28th year, the Boroondara Eisteddfod has established itself as a treasured part of Boroondara's musical landscape.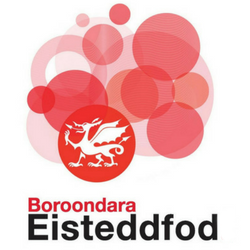 Spanning over six weeks of thrilling competition and events, musicians of all ages come together to showcase their skills and share in the joy of performing.
We're excited to release our provisional schedule for 2019 below (subject to change) with all events being held at the Hawthorn Arts Centre.
It's filled with all the classic Boroondara Eisteddfod sections, including the highly-anticipated Boroondara Piano Concerto competition, but also has a range of new events including Non-Competitive sections, events for Concert Bands and Brass Bands, and Masterclass workshops aimed at VCE students.
There's also a celebratory Encore concert, where a selection of winners and performers from the 2019 Boroondara Eisteddfod will be invited back to perform in a special evening at the Hawthorn Arts Centre.
Registrations open Monday, 25 February 2019.
We'll be releasing more section details, performance requirements and general rules in our 2019 Boroondara Eisteddfod Information Booklet early next year.
Week 1
| | | |
| --- | --- | --- |
| Mon, 29 April | 6pm | Piano Concerto Award (Heats) – Open |
| Tue, 30 April | 6pm | Piano Concerto Award (Heats) – Open |
| Wed, 1 May | 6pm | Piano Solo – Open |
| Thu, 2 May | 6pm | Piano Solo – Open |
| Fri, 3 May | 6pm | Piano Solo – Open |
| Sat, 4 May | 10am | Piano Solo – 8 years and under |
| Sun, 5 May | 10am | Piano Solo – 10 years and under |
Week 2
| | | |
| --- | --- | --- |
| Mon, 6 May | 6pm | Classical Vocal Championship (Heats) – Open |
| Tue, 7 May | 6pm | Classical Vocal Championship (Heats) – Open |
| Wed, 8 May | 6pm | Oratorio / Cantata Solo |
| Thu, 9 May | 6pm | Classical Vocal Solo – 18 years and under |
| Fri, 10 May | 6pm | Art Song / Lieder Solo - Open |
| Sat, 11 May | 10am | Piano Solo – 12 years and under |
| Sat, 11 May | 3pm | Piano Solo (Non-Competitive) – 12 years and under |
| Sun, 12 May | 10am | Piano Solo – 14 years and under |
| Sun, 12 May | 3pm | Piano Solo (Non-Competitive) – 13-18 years |
Week 3
| | | |
| --- | --- | --- |
| Mon, 13 May | 6pm | Musical Theatre Solo – Open |
| Tue, 14 May | 6pm | Musical Theatre Solo – 18 years and under |
| Wed, 15 May | 6pm | Contemporary Vocal – Open |
| Thu, 16 May | 6pm | Contemporary Vocal – 14 years and under |
| Fri, 17 May | 6pm | Contemporary Vocal – 18 years and under |
| Sat, 18 May | 10am | Woodwind Solo – 12 years and under |
| Sat, 18 May | 12pm | Woodwind Solo – 18 years and under |
| Sat, 18 May | 2pm | Brass Solo – 14 years and under |
| Sat, 18 May | 4pm | Brass Solo – 18 years and under |
| Sun, 19 May | 10am | Chamber Ensemble (without piano) – Years 7-12 |
| Sun, 19 May | 1pm | Chamber Ensemble (with piano) – Years 7-12 |
| Sun, 19 May | 5pm | Chamber Ensemble ­– Open |
Week 4
| | | |
| --- | --- | --- |
| Mon, 20 May | 6pm | Piano Solo – 16 years and under |
| Tue, 21 May | 6pm | Piano Solo – 16 years and under |
| Wed, 22 May | 6pm | Piano Solo – 18 years and under |
| Thu, 23 May | 6pm | Piano Solo – 18 years and under |
| Fri, 24 May | 6pm | Strings Solo – 18 years and under |
| Sat, 25 May | 10am | Strings Solo – 9 years and under |
| Sat, 25 May | 1pm | Strings Solo – 12 years and under |
| Sat, 25 May | 4pm | Strings Solo (Non-Competitive) – 18 years and under |
| Sun, 26 May | 10am | Woodwind/Brass (Non-Competitive) – 18 years and under |
| Sun, 26 May | 12pm | Primary School Choir (Non-Competitive) |
| Sun, 26 May | 1pm | Primary School Choir |
| Sun, 26 May | 6pm | Choir / Vocal Ensemble (with accompaniment)  – Open |
| Sun, 26 May | 8pm | Choir / Vocal Ensemble (A Capella) – Open |
Week 5
| | | |
| --- | --- | --- |
| Mon, 27 May | 6pm | Strings Solo – Open |
| Tue, 28 May | 10:30am | Secondary School Choir – Years 7-9 |
| Tue, 28 May | 12pm | Secondary School Choir – Years 7-12 |
| Tue, 28 May | 2pm | Secondary Vocal Ensemble – Years 7-12 |
| Tue, 28 May | 6pm | Strings Solo – Open |
| Wed, 29 May | 6pm | Woodwind Solo – Open |
| Thu, 30 May | 10:30am | Primary School Small Ensemble |
| Thu, 30 May | 11:30am | Primary School Large Ensemble |
| Thu, 30 May | 1pm | Primary School String Ensemble |
| Thu, 30 May | 2:30pm | Primary School Ensemble (Non-Competitive) |
| Thu, 30 May | 6pm | Brass Solo – Open |
| Fri, 31 May | 6pm | Vocal Championship (Finals) – Open |
| Sat, 1 June | TBA | Concert Bands / Brass Bands |
| Sun, 2 June | TBA | Concert Bands / Brass Bands |
Week 6
| | | |
| --- | --- | --- |
| Mon, 3 June | 6pm | Piano Masterclass – VCE Students |
| Tue, 4 June | 6pm | Vocal Masterclass – VCE Students |
| Wed, 5 June | 6pm | Strings Masterclass – VCE Students |
| Thu, 6 June | 6pm | Woodwind Masterclass – VCE Students |
| Fri, 7 June | 6pm | Brass Masterclass – VCE Students |
Special Events
| | | |
| --- | --- | --- |
| Fri, 14 June | 7pm | Encore Concert |
| Sun, 23 June | 2pm | Piano Concerto (Final) – Open |
Contact
For more information, contact us at [email protected]
Benefactors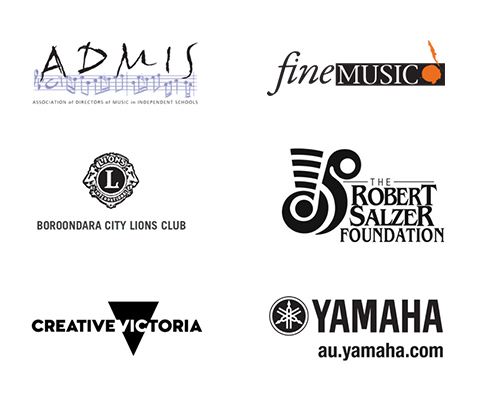 Key supporters
Boroondara Symphonic Band 
Camberwell Chorale
Cordelia's Potted Operas 
Inventi Ensemble
Music Junction Camberwell
Robert Stolz Viennese Music Society
Friends
Don Cowell Memorial Trust
Mrs Mary Dorembus
Melbourne String Ensemble