The Hawthorn Arts Centre presents an exciting and diverse arts program that aims to engage and entertain.
The centre also has a variety of performance, meeting and function spaces available for hire, which are suitable for community, corporate and social use. Our large foyer spaces are perfect for displays, conference registration and pre- and post-event functions.
We offer a ticketing and box office service, as well as in-house catering and professional technical and front-of-house staff.
Incorporating the Town Hall Gallery and its retail space The Emporium, the centre has everything for a first-class arts and cultural experience.
August 2018 marks 130 years since the foundation stone was laid at the former Hawthorn Town Hall, now Hawthorn Arts Centre.
Hawthorn Arts Centre is proudly owned and supported by Council.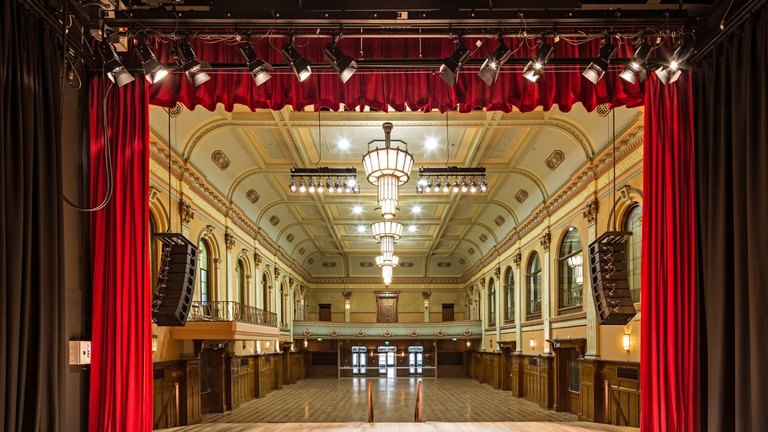 Address
360 Burwood Road, Hawthorn
Opening hours
Box Office
Monday to Friday 8.30am-5pm and 60 minutes prior to each performance
Customer Service
Monday to Friday 8.30am-5pm
Eating and drinking
The Second Empire Cafe is named in honour of the Hawthorn Arts Centre's iconic architectural heritage. The cafe is open Monday to Friday 8.00am - 3:00pm.
Our foyer bar is the perfect place to meet before a performance or at interval for a drink or light snack.
You can also indulge in a bite or beverage before or after your show at one of the many bars and cafes that Hawthorn has to offer. From Ramen to ribs, burritos to burgers, dumplings to donuts, you'll find it all on our very own eat-street Glenferrie Road, Hawthorn.
Parking
Public parking is available at the rear of the Centre, accessible from Kent St or Oxley Road. Additional parking is also available a short walk from the Centre on Serpells Lane and Swinburne Avenue. Please note, restrictions apply.
Public Transport
Train: Alamein/Belgrave/Lilydale lines - arrive at Glenferrie Station, walk 2 minutes south along Glenferrie Road then turn left into Burwood Road.
Tram 16: Melbourne University to Kew - alight at stop 73.
Tram 70: Docklands to Wattle Park - alight at stop 32 and walk north on Glenferrie Road for 9 minutes until you get to Burwood Rd. Turn right and walk 1 minute east along Burwood Road.
Tram 75: City to Vermont South - alight at stop 32 and walk north on Glenferrie Rd for 9 minutes until you get to Burwood Road. Turn right and walk 1 minute east along Burwood Road.
More information
For more information or to discuss your visit to the Hawthorn Arts Centre, contact us on 9278 4770 or email Hawthorn Arts Centre. You can also follow us on Facebook, Twitter and Instagram.