Glenferrie Place in Hawthorn was revitalised in 2020 with the installation of a vibrant new mural and restoration works to the bluestone paving which are now complete.
Abbey Rich, an artist engaged to create and install the artwork, has transformed the once plain wall of the laneway into an exciting new art installation, which aims to:
contribute to the livelihood of the Glenferrie shopping precinct by improving the appearance and functionality of the public realm
encourage traders to activate laneway frontages to boost business and improve street life 
improve walkability and community confidence in the safety and security of public spaces.
About the artwork
Abbey's work features hands of different ages and colours passing native flowers to each other across the wall. Filled with a variety of different plants and patterns, the art plays with size and scale to add interest to the piece. The abstract pattern in the background allows for minimal areas of flat colour to deter graffiti.
You can view it as a full story when you catch it from afar or from up close, taking in each of the elements as separate components filled with beauty and detail.
Set amongst a typically busy and bustling place, these natural elements and remind passers-by of the true natural beauty in this country. All the plants you see in the artwork are native to Australia and found in Boroondara.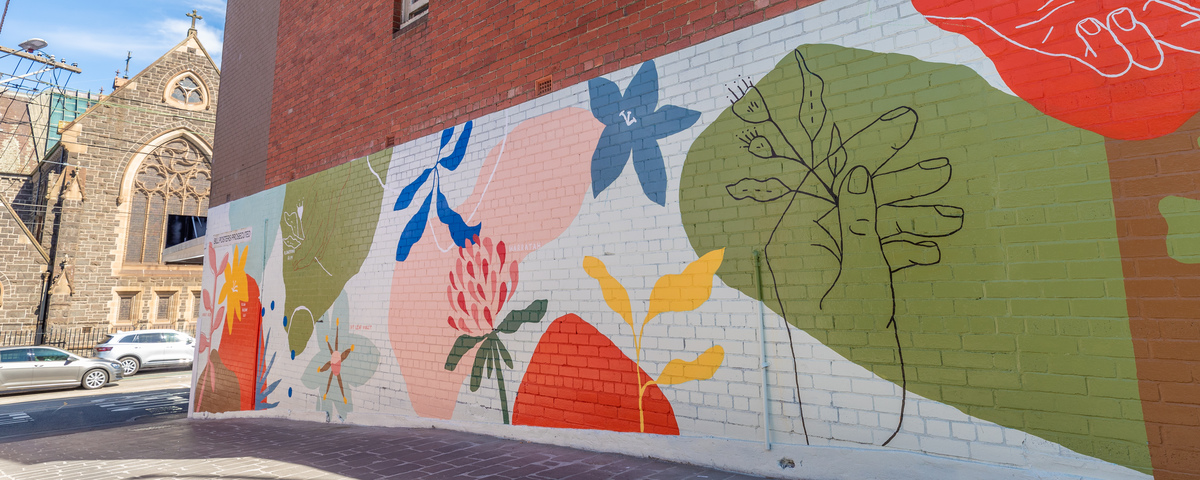 More information
For more information, contact Boroondara Arts via email [email protected] or call (03) 9278 4770.
This forms one of many initiatives to revitalise Glenferrie Road in Hawthorn through placemaking. To learn more about the placemaking project, visit the Glenferrie Road placemaking project page.