Boroondara has a wealth of places, spaces and activities to explore this summer.  
The great outdoors
We're fortunate to have incredible parks and gardens in our lovely City. 
During February and March our parks will come alive with free outdoor performances as part of our Summer in the Park series. From jazz to opera, soul to cinema, there's something to suit everyone.
From meandering along the Yarra to cruising to the Koonung Wetlands, our walking and cycling paths travel through diverse landscapes and are a great way to spend time outside. Jump on your bike or pull on your walking shoes and enjoy more than 30km of off-road shared paths that wind through Boroondara.
Keep your cool 
Keep your eye on the weather and if it's extremely hot, plan your activities for the coolest part of the day or stay in doors. Heat can especially affect people over 65 years old, or those with a chronic medical condition or disability. Keep an eye on your neighbours, friends, family and pets. Find out more about what to do in a heatwave.
Boroondara's air conditioned libraries are cool places to spend time this summer. Throw in storytime and school holiday events for the grand kids and you have a great way to spend a hot day. You can even get rewarded for catching up on your reading by entering our Love Summer reading competition to go into the draw to win a $50 Readings voucher.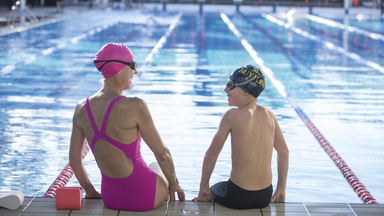 Cooling down in the water is an obvious one, but given our leisure centres and pools are such a delight, they are worth shouting about. With indoor and outdoor pools, health clubs and cafes, they're a great place to spend a cool morning or afternoon - or the entire day!
Out and about
For some creative inspiration, head to Town Hall Gallery where two exhibitions are featured from mid-January: Off the leash and In real time.  
Or why not while away a fantastic evening filled with music and friends at one of our performance venues? See what music and performances we have coming up.
Learn something new 
If you are retired or semi-retired you can take a short course during January at U3A Deepdene or U3A Hawthorn. Or perhaps our 11 Neighbourhood Houses and Community Centres, 3 mens sheds and 23 seniors groups might have something on that's more up your alley? Explore our Activities for over 55s section to search over 500 events and activities on offer and find one to suit you.