Are you a shopfront property owner or occupier operating a business within one of Boroondara's 53 shopping centres? 
This grant provides an unprecedented opportunity to upgrade the façade of your business.
Applications for this grant are closed for 2018.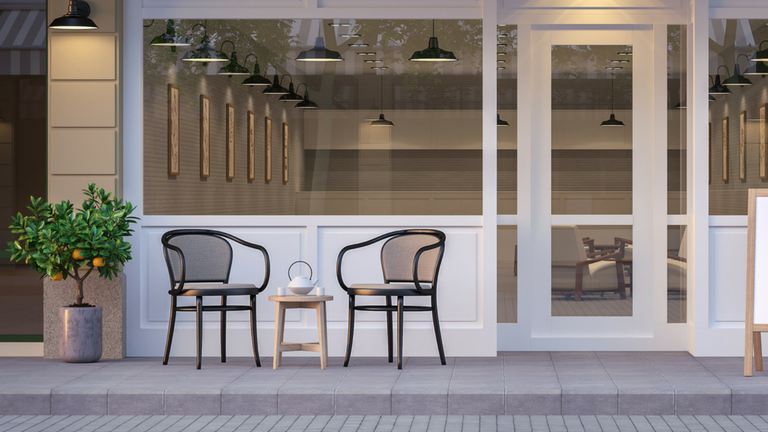 Why we developed the Shop Façade Improvement Grant Package
Feedback provided as part of the development of the City of Boroondara's 10-year Community Plan identified the importance the community placed on vibrant and attractive shopping centres.
Council recognises buildings and establishments within shopping centres define the ambience of a street and are a major contributor to the character of the local community. 
Clean, interesting, and well-maintained facades communicate a sense of pride and commitment, create a unique sense of place and encourage passers-by to stop and shop.
Grant package guidelines
Grant objectives
to encourage businesses with a street frontage to restore, upgrade, or otherwise improve their shopfront facades.

to assist local shopping centre based businesses with improvements that make them more attractive and distinctive.
Grant Package Funding
Approved applicants will be entitled to the grant package consisting of two steps.
Step 1: Design consultancy services
The design consultancy services (valued at $1,800) are at no cost to you and include:
one on one consultation with a professional shopfront design consultant

customised recommendations for improvements to your façade

sketch plans and implementation estimates

assistance to project manage the works to completion.
Step 2: Access to grant funding to undertake the works
Every $250 contribution by your business/property owner unlocks $750 in grant funding up to an amount of $3,000.
You will receive 50% of the approved amount when the funding agreement has been signed by all parties, and 50% on completion of works and acquittal of the grant.
 

Applicant contribution towards improvements

 
 

Council grant contribution

    
$250
$750
$500
$1,500
$750
$2,250
$1.000
$3,000
Eligibility criteria
1. Only one application per business/property owner.
2. Location of premises:  
The premises must house an operating commercial business at street level in one of Boroondara's 53 shopping centre
3. Improvements must:
be to the shopfront and surrounds only (internal works cannot be considered for this grant)

be of a permanent nature

comply with Council Planning and Building Controls, Local Laws requirements and Commercial Street Furniture and Access to Premises Standards.
4. Applicants must:
be a shopfront property owner or occupier

Owners need to provide 

a rates notice

written permission from the occupier.

Occupiers need to provide:

a rates notice and written permission from the owner

a lease with at least a year to run from the date of application.

Owner-occupiers need to provide a rates notice.

operate a business within a commercially zoned area within one of Boroondara's 53 shopping centres

Be prepared to undertake the free one on one design consultation/s as arranged by Council.

be prepared to contribute a minimum of $250 to enable implementation of improvements

have an appropriate business registration or equivalent

be a small business as defined by the Australian Bureau of Statistics (ABS) as employing under 20 people

have appropriate public liability insurance

submit their application prior to purchasing goods, fabrication and/or installation of any proposed works associated with this application

be willing to submit a public release for photos to be used.
5. Applicants who are not eligible for this grant:
employees of the City of Boroondara who own the property or the business

Australian and local government agencies and bodies

an owner or tenant whose property is part of a shopping complex

owners corporations (strata and company owned)

businesses that trade business-to-business only

unincorporated associations, branches, franchisees or subsidiaries of larger companies

online businesses or virtual/serviced offices

businesses that have an adverse effect on public health, safety, the environment or heritage.
6. Project outcomes sought:
attractive and or innovative façade enhancements in keeping with the character of the relevant centre

addition of outdoor planters/accessories (shutters, trim), floral treatments

exterior painting or rendering

installation of new masonry/ stone work/timber cladding

heritage preservation/restoration

murals

repointing of brick/stone and/or brick restoration/cleaning

repair or replacement of wall tiles

ambient lighting treatments

replacement of doors and/or windows

verandah replacements.
Projects not eligible for package funding:
purchase of buildings or property extensions or additions

relocation of business

routine maintenance

security cameras

internal shop fittings including display shelves and painting

projects that will rely on future recurrent funding from the City of Boroondara

permanent staffing or ongoing operational costs.

basic operational equipment

temporary structures or other materials used to promote one off or recurring events.
For assistance, contact the Economic Development team on 9278 4814.
Timeline
1 November 2017

. Applications opened. Applications have been assessed based on eligibility criteria as they are received on a first come, first serve basis until grant monies are expended.

1 February 2018

. Initial free design consultations will commence.

30 June 2018

. Projects must be completed.
Assessment                                                  
Applications will be assessed by the relevant Council Officers against the evaluation criteria. Council has absolute discretion in the selection of the successful application, taking into account the evaluation criteria and is not bound to accept any application.

Council will reject an application which in its opinion contains false or misleading information.

We will assess the status of your property's zoning to determine what is possible under Council's planning controls to feed into design concepts and recommendations for improvements to your façade. We will liaise with you if there are any potential issues.

You will be advised of the outcome of your application and if successful, you will be sent a Funding Agreement for signature.

Once all parties have signed the Funding Agreement, the first instalment of the grant payment equalling 50% of the total approved grant payment, will be paid into your nominated bank account. You will then be contacted by a design consultant in early February 2018 to commence the free design consultation phase of the program.

The design consultant will assist you to source quotes for proposed improvements and assist with project management of the implementation.

When works are completed you will be required to fill out a simple acquittal form which we will provide to you.
Once the acquittal form is submitted and approved, the second 50% instalment of the grant will be deposited into your nominated bank account.
Acquittal
Upon completion of the project, successful applicants will be required to acquit their grant funds, providing evidence of the delivery of their project, expenditure and outcomes.

The acquittal form will be made available to successful applicants, and must be completed within 90 days of the project completion date.

The acquittal for Shopfront Façade Improvement Grants includes:

proof of funding contribution by way of invoices/receipts or alternatively, bank statement showing direct cash input to the project

digital images of prior to and after the project.
Liability
The Applicant must, at all times, be the holder of a current public liability policy of insurance ("the Public Liability Policy") in the name of the applicant entity (legal) name, providing coverage for an amount per event of at least $10,000,000. Evidence of Certificate of Currency must be provided to Council.
The Applicant must ensure that any contractor / third party engaged to carry out works must, at all times, be the holder of a current public liability policy of insurance ("the Public Liability Policy") in the name of the contractor entity (legal) name, providing coverage for an amount per event of at least $10,000,000. Evidence of Certificate of Currency must be provided to Council prior to works commencing.
The Applicant must provide Council with certificates of currency in respect of all insurances required within one (1) day of a request by Council.
If the Applicant fails to comply with its obligations to insure or to provide evidence of insurance Council may immediately terminate the Grant Package Funding ('The Funding').
Reservations
In making an application, each Applicant acknowledges that the application does not rely on any warranty or representation made by or on behalf of the City of Boroondara, and has relied upon his or her own inquiries in respect of the application.
The City of Boroondara does not warrant the accuracy of the content of the Grant Package Guidelines and is not liable for any omission from the Grant Package Guidelines.