Status
Construction of the North East Community Hub is tracking well, with the project now well past the halfway point. To mark this milestone, watch the timelapse video to get a sneak peak of the progress so far. 
Community involvement
Nearly 800 residents in Balwyn, Balwyn North and Deepdene provided feedback to help shape the services and activities available at the hub.
A group of community ambassadors are championing the project and provide community input.  Watch the video below to hear what some of our community ambassadors think of the progress and what they're most looking forward to once the hub opens.
About the project
The North East Community Hub will be a convenient, one-stop destination where local residents and visitors can access much-needed community services, programs and activities including:
North Balwyn RSL and the memorabilia collection

Greythorn Maternal and Child Health Centre

a Neighbourhood House with community programs for all ages

community meeting spaces, including a large multipurpose function room

Greythorn Early Childhood Centre and Kindergarten, and new occasional care service

Allied Health and counselling services

a library lounge for book pick-ups and drop-offs, access to computers, WiFi, community information and library programs.
Located close to the bus stop and the Greythorn shops, the hub will also have an underground car park. A new public park is being created on the corner of Centre Way and Trentwood Avenue for everyone to enjoy. The North Balwyn RSL will use the park to host Anzac Day ceremonies.
This exciting $17.2 million project was made possible thanks to the North Balwyn RSL sub-branch offering land to Council on a long-term lease. We gratefully acknowledge the Australian Government's $3.2 million contribution through the National Stronger Regions Fund.
Temporary relocations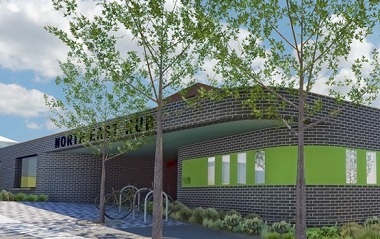 Construction vehicles are accessing the site from Centre Way via Doncaster Road, which has reduced access to Centre Way while building is underway.
During construction, the following services have been temporarily relocated:
Find the North Balwyn RSL at the North Balwyn Bowls Club, 60 Buchanan Avenue, North Balwyn.
Find the Greythorn Early Childhood Centre and Kindergarten at the former Balwyn Leisure Centre, 230 Balwyn Road, North Balwyn. Buses run along Belmore and Balwyn roads.
Find the Greythorn Maternal and Child Health Centre nurse at the Maternal and Child Health centres in Balwyn, North Balwyn and Minifie Park. For appointments, phone 9278 4606.
View this information in Mandarin
More information
You can receive regular email updates on the North East Community Hub.
You can also read the latest project bulletins:
NECH Project Bulletin 6 (June 2017)
NECH Project Bulletin 6 (June 2017) - Chinese
NECH Project Bulletin 5 (January 2017).
For more information, email Fiona Brown, Community Planning, or phone 9278 4476.