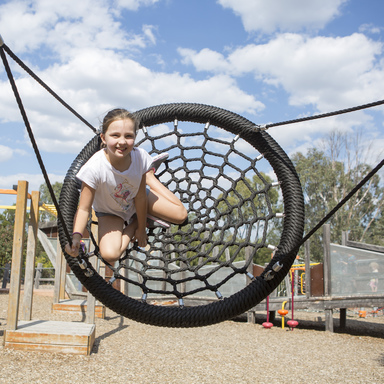 Project status 
Construction scheduled for the 2018-19 financial year.
Project overview
Improvements to this district level playground include the community's most popular requests.
Climb up to 6m on the new rope pyramid, creep through the 'Troll's Forest' (careful not to wake the Troll!) and slide down the new embankment slides.
The new playground will improve accessibility and play choices for all ages and abilities and provided a balance of physical (traditional) play equipment, nature based play and imaginary play opportunities.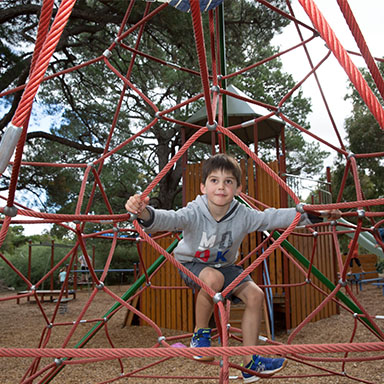 The improvements will also include:
a combined junior and senior play unit including 

1.2 m high junior slide
1.8m high senior spiral  slide, 
climbing access of varying difficulty 
3m long track glide
2m high bridge connection to the 6m high climbing pyramid.
accessible path below decks with shop front and tunnel
combination of steel and rustic timber post construction with feature timber panels

new basket swing with accessible access path 
new quad swing set with 

2 x senior strap seats 
1 x infant seat with secure chain
1 x Expression: swing seat (combined adult and infant seat)

new double embankment slide
embankment climbing ropes
new sandpit with park shelter
new  "build your own" cubby space with speaker tube
timber log balance edging 
the Troll's Grotto:

sculptural timber post forest
the Trolls bridge
the sleeping Troll
speaking tubes connecting to the cubby space 
Other amenity 
new garden bed planting
new shade sails over junior play area
new seating, picnic settings, park shelter over BBQ area, bike stands and accessible drinking fountain.
See the plan
View the proposed Ferndale Park Playground improvement concept plan. 
Contact us
For more information about this project email [email protected]