Status
Landscape architects have been engaged by Council to develop a concept plan for the Earl Street Community Garden along with working drawings and documentation to guide the construction of the garden later this year (2018).
The architects will use the vision, objectives, wish list and a mud map of key elements developed by the Community Garden Working Group during November and December 2017 to guide their design.
The final concept plan will be published in the Boroondara Bulletin, May edition.
The Community Garden Working Group is now meeting  to review the draft concept plan and to prepare for the operation of the gardens. This will include discussion of the proposed management structure (an Incorporated Association), development of a committee of management and working groups, and development of rules of conduct or guidelines.
Workshop sessions held so far have included a visit to other community gardens, a detailed analysis of the Earl Street site, and facilitated discussions to develop a Vision and Objectives and wish list of elements for the new community garden.
View our short video of the working group's first workshop to find out more.
The Community Garden Working Group draft vision and objectives
Draft vision: The Earl Street Community Garden is an inclusive and nurturing gathering space that is committed to the principles of sustainability in the growing and sharing of food.
Objectives (short form):
Improve food security and promote healthy eating
Enhance the use of green space in Kew
Increase community connection and reduce social isolation
Strengthen local neighbourhood dynamics
Build a strong sense of place
Reduce our environmental impact
Encourage local biodiversity and connect with nature
Increase the number of locals engaged in food growing
Nurture curiosity and provide hands-on learning for children
Ensure longevity of the gardening community by using sustainable management practices which are open, participatory and non-judgemental.
Key dates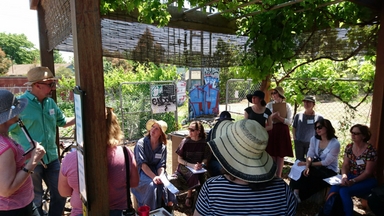 31 March 2018 – Concept designs finalised
25 June 2018 – Working drawings for garden construction underway, governance structure and associated documents completed
From July 2018 – Community garden construction commences (to be completed in approximately 4-6 months)
About the project
Following consultation with residents in Kew, we are making land available on the corner of Earl and Willsmere streets for a community garden. The garden will be used by residents to grow and share fresh, seasonal produce.
Council has engaged 3000acres to work with the Community Garden Working Group (CGWG) to develop a vision for the community garden, prepare a concept plan and develop a governance structure, along with guidance to ensure the successful operation of the garden once it is up and running.
Updates will be added to this page as the project progresses.
Contact us
For more information, email [email protected] or phone Andrea on 9278 4889.