We are upgrading the popular Balwyn Community Centre site at 412 Whitehorse Road, Surrey Hills.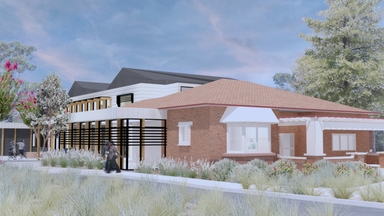 About the project
The Balwyn Community Centre site, with its buildings, tennis courts, natural wetlands, parkland and community garden, is widely used for community programs, recreation and occasional childcare.
We are upgrading the site in line with community feedback, so that the centre can meet the needs of our growing population.
The buildings will contain additional and more functional spaces to better support programs and services; the heritage character of the old building will be maintained; and the street frontage will be improved to make the site more open and welcoming.
The site will be maintained for community use. It will not be developed for residential or commercial use, and it will not be subdivided.
The design of the centre will be finalised by June 2018. Construction works will commence in September 2018 and are expected to take 12 months.
During construction, Balwyn Community Centre will be temporarily relocated to the former Balwyn Leisure Centre site at 230 Balwyn Rd, Balwyn North. Activities and programs will continue at this location throughout construction, and ample car parking is available on site. Further information will be provided ahead of the relocation. 
We recommend you subscribe to project updates.
Progress
Two stages of the project remain:
Stage 4: Finalising the design in partnership with the Balwyn Community Centre in 2018.
Stage 5: Building and landscape works in 2018–19.
Work completed
Three of the project's five stages have been completed.
Stage 1: Community consultation, April 2016
Council received ideas from 201 residents, which included the following themes:
maintain the natural bushland character of the parkland
upgrade internal spaces in the old house, taking care to retain its character
consider sustainable and universal building design principles to lower operating costs
improve the site's street presence, external lighting, frontage and entrance
improve pedestrian access and footpaths
maintain car parking and improve circulation for drop-offs and pick-ups
expand access to the community garden
retain 1 or 2 tennis courts, or use them for other recreational opportunities (such as a children's play area or table tennis).
Stage 2: Community consultation on draft concept plans, March 2017
We drafted a concept plan based on the community's input, which was open for community discussion in March 2017. The feedback along with local demographic research and Council strategic objectives were used to develop the detailed concept plan for Stage 3.
See concept plans - ground floor zoning
See concept plans - first floor zoning
Stage 3: Community feedback on the detailed concept plan in October 2017
We drafted a detailed concept plan based on the community's feedback, which was open for community discussion in October 2017. The feedback along with local demographic research and Council strategic objectives will be used to finalise the design (Stage 4). 
BCC Detailed Floor Plans Concept Plans 
BCC Detailed Landscape Concept Plan
More information
You can receive regular email updates on the Balwyn Community Centre site upgrade.
You can also read project updates:
For more information, email Kate McClure, Community Planning, or phone 9278 4573, or contact Deb Austin, Balwyn Community Centre, on 9836 7942.