Beth Mathison was a millionaire by 30, and then suddenly homeless, broke and filled with shame by age 40, the victim and ultimate survivor of an insidious and lesser known form of domestic violence: financial abuse.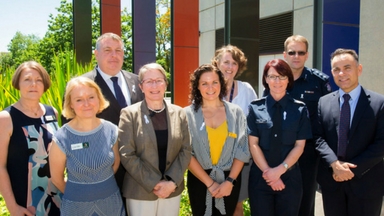 Yesterday she was the keynote speaker at a City of Boroondara public event held in support of White Ribbon Day, a campaign to prevent family violence.  
Beth is a company director and the 2015 Telstra Tasmanian Businesswoman of the Year, who experienced family violence over many years and now speaks out about the impacts of financial abuse. 
Beth shared her personal story of survival and empowerment, and her talk was followed by an interactive panel discussion with representatives from Eastern Domestic Violence Service, Eastern Community Legal Centre and Victoria Police.
Cr. Jim Parke, Mayor of Boroondara, said he was pleased Council could help raise awareness about this important issue. 
"Family violence is a serious issue in Australia, and it crosses all demographic boundaries," he said. 
"In the 2015-16 financial year, more than 800 family violence incidents in Boroondara were reported to police, yet the actual figure is likely to be much higher, as it is often under-reported due to fear, financial stress and stigma.
"The City of Boroondara is committed to working in partnership with agencies to help build a future free from family violence and abuse.
"I commend the Boroondara Family Violence Network for its excellent work supporting people who have been impacted by family violence and facilitating local violence prevention efforts."
image L-R: Cr. Lisa Hollingsworth; Cr Jane Addis; Mayor Jim Parke; keynote speaker Beth Mathison; Marika Manioudakis, ECLC; Gina Kennard, EDVOS; Fiona Calkin, Victoria Police; Stephen Noy, Victoria Police; and John Pesutto MP, Member for Hawthorn