The client for this development on the corner of Rockingham Street and Swinton Avenue in Kew, Justin Abrahams, also happened to own the house next door.
-----------------------------------------------
Words by Stephen Crafti, photography by Shannon McGrath
Urban Design Awards 2018: Best medium scale multi-dwelling residential development, Rockingham Townhouses
After living in his 1970s architect-designed home, with tennis court, for 14 years, he decided to develop both the tennis court and the modest 1940s home on the corner next to that. "He was finding that the children were mainly using the tennis court to ride their bikes," says architect George Yiontis, co-director of Coy Yiontis Architects, who worked closely with his life and business partner, architect Rosa Coy, on the project.
Abrahams, well known in the fashion industry as the founder of Husk and now Pedla cycling wear, has always been captivated by architecture and the development process. "This is the fourth project that I've worked on with Coy Yiontis. In this instance, I was looking to create something that appeared timeless, townhouses that were 'clean' and appeared relatively simple. I wanted these townhouses to be as classic in 15 to 20 years' time," he says.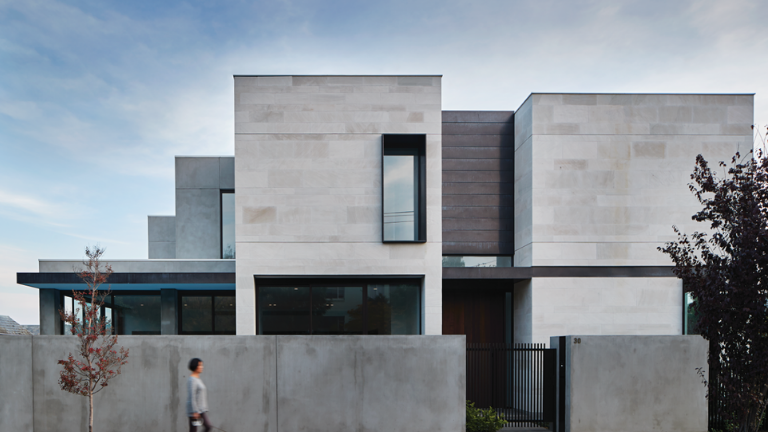 The five two-storey townhouses with shared basement car parking not only satisfied Abrahams' brief, but also received the award for 'Best medium scale multi-dwelling residential development' in this year's City of Boroondara Urban Design Awards.
Spread over a 1400-sq m allotment, these spacious townhouses, each with its own street address, are more akin to detached homes. With sizes varying from 209 to 295-sq m, they come with three bedrooms, and the option of a fourth guest bedroom or gymnasium space. Landscaped, courtyard-style gardens offer a low-maintenance option.
In addition to a sense of 'timelessness', Abrahams was keen that a restrained palette of materials be used in the realm of the eminent architect, Guilford Bell. Abrahams wasn't looking for homes that felt too busy or fussy, rather something that was quite pared back. The palette included a Gosford Grey sandstone for the exterior, together with fine detailing like the bronze used to shade the windows (also for privacy) and bespoke timber doors for the front doors.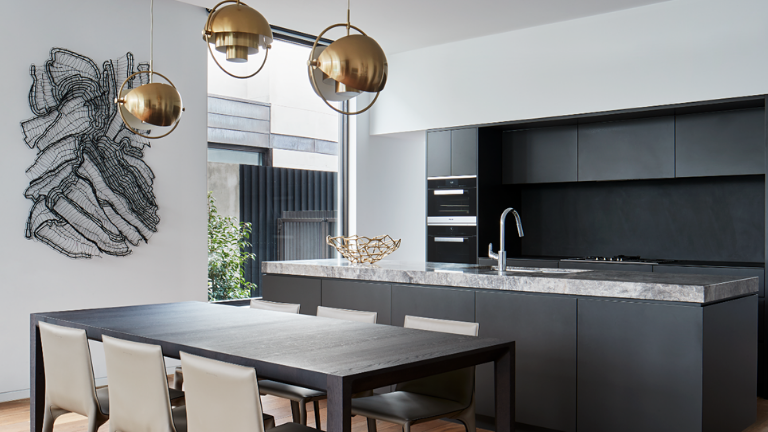 The interiors of these townhouses are equally as considered. Tying in strongly with the courtyard gardens, the large open-plan kitchen and living areas are sleek and streamlined. The kitchen, for example, includes marble bench tops and black ceramic tiles for the splashbacks, as well as a butler's pantry concealed to one side, something normally found only in large family homes. Oak floors appear throughout the kitchen and living areas. Traditionally, the market for these townhouses has been empty nesters scaling down from their large family homes, often nearby. The idea is that they can lock up and leave for their travels with peace of mind, rather than worry about garden regimes.
Unlike many townhouses, the design of these homes is more consistent with a large, high-end house. There's a full ensuite and dressing area leading from the main bedroom, and each townhouse comes with a freestanding bath as well as generous storage areas. Certain features have been customised to suit individual needs: in some cases, the buyers requested built-in joinery for the guest bedroom, so that this could be used as a home office.
"Justin was keen to create a high-end quality product rather than simply a generic result," says Yiontis who, with Coy, is delighted to be recognised for their efforts. "It's always satisfying to get that 'pat on the back'," says Coy, "both from your client and from Council."