At the Services Delegated Committee Meeting on 12 September, our Mayor Cr Jane Addis moved a motion to honour and celebrate the service of Her Majesty Queen Elizabeth II.
We have included a transcript of the motion along with the 'Wattle Painting', which is the official Australian portrait of Queen Elizabeth II that sits in our Council Chamber.
Painted in 1954 by Canterbury resident Sir William Dargie, it is one of the most recognisable examples of Australian portraiture.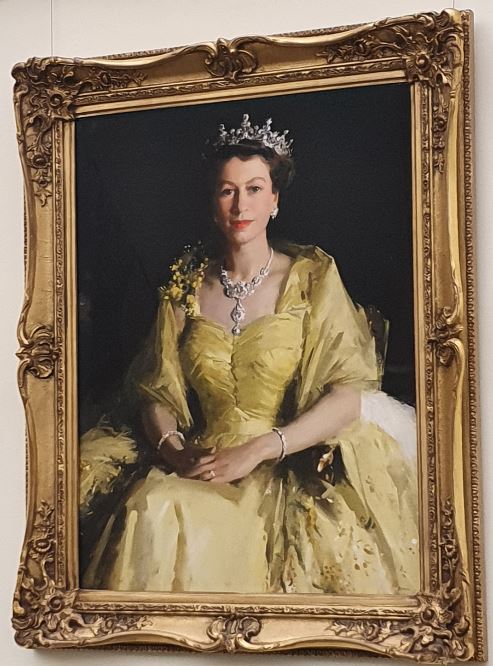 Motion passed by Council at Services Delegated Committee Meeting
It is with great sadness and sense of loss that I speak on behalf of us all to acknowledge a life well lived and the passing of a much loved leader. 
Her Majesty Queen Elizabeth II epitomised a rare stability in the midst of great political change during the 70 years of her reign. 
We are thankful for the institution represented by the Queen, and the Queen herself, who gave many people in our community confidence in our system of government and a sense of belonging to something bigger than ourselves 
Her Majesty lived a lifetime of service to the United Kingdom, Australia and the Commonwealth. She was the Queen; it was not a role or a job, but her whole life and the Commonwealth has benefited from her commitment and tireless work.
Queen Elizabeth perfectly modelled the challenges of a working mother who strived to balance caring for 4 children while managing a more than full-time job. She cared deeply for her children, grandchildren and great grandchildren. She gave many people in our community a sense of being united and she inspired them as a working mother. 
Very few of us here tonight remember a time before the reign of Queen Elizabeth II. 
Her enduring legacy is her sense of loyalty, love for family and the Commonwealth, ability to work with a great variety of leaders, sense of occasion, grace, respect for etiquette and quiet strength. 
Her Majesty's grace and strength is reflected in the Wattle Portrait that hangs in this chamber. As the official Australian portrait of Queen Elizabeth II, this portrait has a special connection to Boroondara – it was painted in 1954 by Sir William Dargie, an 8-time Archibald Prize Winner and Canterbury resident.
We bid our farewell to one of the most significant women of the 20th and 21st centuries. As said by her son and our new King Charles III – in the words of Shakespeare – "May the angels sing thee to thy rest". 
Vale Queen Elizabeth II
Accordingly, I move a motion that Council:
Observe one minute of silence to acknowledge the passing of Her Majesty Queen Elizabeth II.
Send a letter of condolence under seal, to the Royal Family expressing Council's sympathy for Her Majesty's passing and commending her significant service to the Commonwealth. 
Send a letter under seal, to the Royal Family acknowledging the proclamation of His Majesty King Charles III and wishing him the best for his reign. 
Encourage members of the Boroondara community to sign the online condolence form on the Department of the Prime Minister and Cabinet website.