Improvements to Gordon Barnard Reserve fenced dog play area
We will be completing maintenance and improvement works in the fenced dog play area. These minor upgrades will help ensure that everyone continues to enjoy using the space.
Works are expected to start on Monday 24 October 2022 and take around one week to complete. During this time, the fenced dog play area will be closed to ensure community safety. A partial closure of the fenced dog play was considered, but it was determined that a full closure was required to ensure dogs and their owners are safely separated from the works.
What are we doing?
As part of the improvement works, we will:
upgrade and extend the size of the central concrete seating area in the middle of the park
add a gravel section connecting the central seating area with the gravel circuit path around the facility (we are keeping the existing seating)
lay new mulch near the central seating area between the existing trees to improve the worn grass surface
plant 2 new trees either side of the central seating area to provide more summer shade and enjoyment.
The sections of the fenced dog play area we will improve are marked on the map below. The new mulch area is marked in yellow, and the upgraded central concrete gathering area is marked in pink.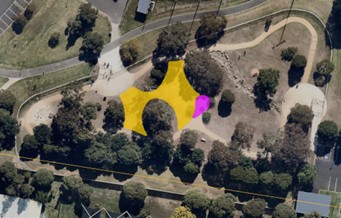 As part of these maintenance works, we will also undertake any further minor improvements where needed. This includes adding a small section of concrete behind the drinking fountain at the eastern entrance of the park to improve access.
What will happen during the works?
Access to the rest of Gordon Barnard Reserve outside the fenced dog play area will stay open during the works. A few spaces in the carpark will be used during the construction works.
We expect noise levels to be low during the works, but there may be short times of increased noise from small concrete demolition activities and truck movements. 
We aim to reduce disruptions where possible and apologise for any inconvenience these works may cause. 
The upgrades will create more space for people to gather while interacting with their dogs. They will also improve the playing experience for our four-legged friends.
Don't forget to keep an eye on your pooch and pick up after them as you use the area. This will help to ensure others safely enjoy the space.
More information
For more information about the fenced dog play area, visit our Gordon Barnard Reserve page.
If you have any questions about the maintenance improvement works, please contact us by calling 9278 4444 or emailing [email protected].