The Department of Transport is exploring 4 design options to improve connectivity and safety for pedestrians and bicycle riders who use the Toorak Road crossing of the Anniversary Trail in Camberwell. Community consultation on the design options is open until Friday 28 October 2022 through the Engage Victoria website. We are encouraging the community to have your say.
Our preferred design
Council's preferred design is Option 4, which involves building a new shared bicycle and pedestrian bridge over Toorak Road (with the exception of the stairs on the south side of Toorak Road). We have been advocating for a bridge like this for many years.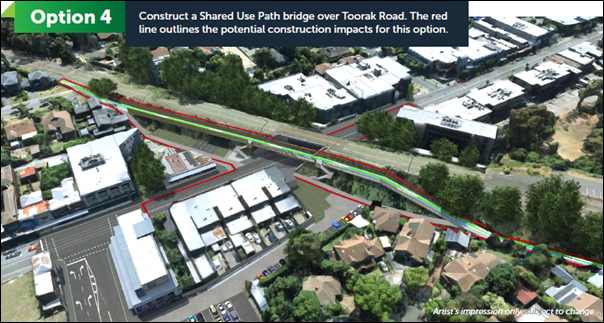 Our work so far
In 2014, we completed a feasibility study to confirm that building a bridge at this location was achievable. We worked with key stakeholders including VicRoads (now part of the Department of Transport), VicTrack, Metro Trains and Public Transport Victoria.  
We also consulted with the community and traders to understand their support for a new bridge. We found that a shared bicycle and pedestrian bridge was the most suitable option, which was supported by all key stakeholders. 
We presented our findings at a Council meeting in May 2018. Councillors supported our recommendation for a shared bicycle and pedestrian bridge on the west side of the railway line.
You can download a copy of the Council report and minutes from the meeting below.
Since 2018, we have continued advocating for funding to build the bridge. The Victorian Government also allocated $800,000 in its 2021/22 budget to plan for a new shared bicycle and pedestrian bridge along the Anniversary Trail at Toorak Road, which is part of the Kew to Highett Strategic Cycling Corridor. 
More information
For more information about this project, please contact Bhushan Jani, Coordinator Transport Management by emailing [email protected] or call (03) 9278 4518.