Some of our City's finest recent examples of urban design and architecture came under the spotlight last week when we announced the results of the 2018 Urban Design Awards at a special presentation ceremony.
While they span a diverse range of residential and non-residential projects, the winners all share certain key qualities: they're creative, attractive and enhance their surroundings. Not only do they add something special to their respective neighbourhoods, they make a positive contribution to the overall character of Boroondara.
Best medium-scale multi-dwelling residential development
22-30 Rockingham Street, Kew
Coy Yiontis Architects' Rockingham Townhouses in Kew took out the award for best medium-scale multi-dwelling residential development. Noteworthy for their elegant simplicity, use of quality materials and large projecting windows, the townhouses also impressed the jury with their well landscaped frontages and the way their height follows the slope of the land.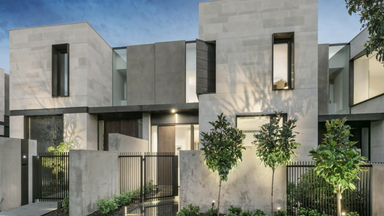 Best apartment/mixed-use development
121 Power Street, Hawthorn
Positioned on a busy Hawthorn corner, ANGLE and Stokes Architects' 'Maple' development is an attractive, six-storey building, which enlivens its location with a ground-level café, an eye-catching curved façade and upper level landscaping.
Another feature distinguishing this project is the clever use of external screens to create an interesting play of shadow and light.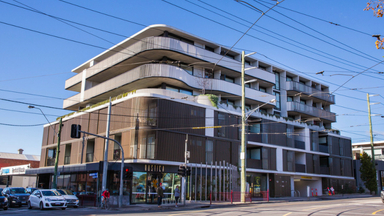 Best non-residential development
Carey Grammar School, Centre for Learning & Innovation
Winner of the best non-residential development, Carey Grammar School's Centre for Learning and Innovation (Hayball Architects) provides an important focal point within the campus. The materials and finishes, including the colour-changing cladding, add to this remarkable building's visual impact, while the crowning 'UN' meeting room inspires students to dream big.
 
Best heritage extensions, additions and alterations
Finding it impossible to decide between two equally outstanding projects, the judges awarded joint winners for the Heritage category: 'Belmont House' in Belmont Avenue, Kew, and 'Elberfeld House' in Lisson Grove, Hawthorn.
Belmont House, Kew
Kennedy Nolan Architects' stunning work on Belmont House delivers a robust but respectful outcome, by lowering the new wing and leaving the original part of the house as the main focus.
Elberfeld House, Hawthorn
Jane Riddell Architects' Elberfeld House project was designed as a striking pavilion extending into the north-facing garden, with open fences enhancing the backyard landscape amenity between neighbours. 
The 2018 judging panel was made up of Councillors Cynthia Watson, Garry Thompson and Jane Addis and urban design experts Craig Czarny (Hansen Partnership) and Rob McGauran (MGS Architects).