The winners of the prestigious Boroondara Literary Awards were announced at a special reception at the Hawthorn Arts Centre last week.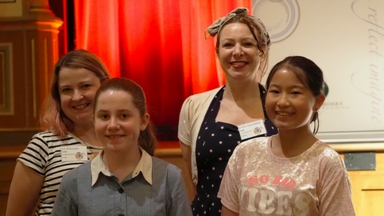 The Boroondara Literary Awards has been unearthing remarkable local talent and inspiring people to be creative since 1999, and this year over 1100 talented writers of all ages submitted their poetry and prose into the competition.  
The Open Short Story category was judged by Eliza Henry-Jones. First prize in the Open category was Important, Sentimental Rubbish by Jean Flynn, a sweet and lyrical story dealing with the heavy theme of a father and grown daughter clearing up a deceased mother's belongings.  
The Keith Carroll Award for the best entrant from a Boroondara resident was presented to Lilian Cohen for The Red Umbrella, an evocative tale of landscape, belonging, trauma and the things that haunt us.
Winners for the Young Writers' competition were chosen for each age group by Emilie Zoey Baker, who judged the Poetry category and Lili Wilkinson, who judged the Prose category.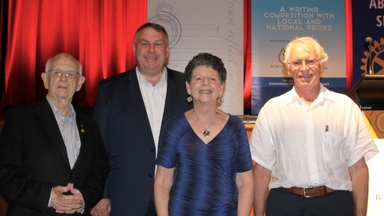 First prizes for poetry were awarded to:
 Junior - Juliet Bland from Ruyton Girls' School for Silver and Gold
 Middle - Ingrid Winata from Methodist Ladies' College for A Reflection
 Senior - Kirsten Tsan from Methodist Ladies' for S(he)
First prizes for prose were awarded to:
 Junior -  Tiffany Huang from Boroondara Park Primary School for The Living
 Middle - Tara Zhang from Ruyton Girls' School for Radiance
Senior - Annie Zhang of Camberwell Girls Grammar School for Doppelganger
View the full list of winners. 

Image 1: Young writers Juliet Bland and Tiffany Huang, who were awarded first prizes for poetry and prose (respectively) in the junior categories, with judges Lili Wilkinson, and Emilie Zoe Baker.
Image 2: L-R: Keith Carroll (after whom an award is named), Cr. Jim Parke, Mayor of Boroondara, Lilian Cohen, winner of the Keith Carroll award for best Boroondara entrant, and David Jones, president of Balwyn Rotary Club.