Sustainable environment
Strategic objective:
Our natural and urban environment is improved in a sustainable way.
Key figures

28.8 million net operating cost

72,730 Indigenous trees, shrubs, grasses and groundcovers planted during the year

71,579 tonnes of waste collected from kerbside bins
Key achievements
Towards a low carbon future
Council adopted the third action plan for the Our Low Carbon Future Strategy (OLCFS) in September 2016.
The action plan reaffirms the OLCFS targets, principles and objectives, and summarises progress to date on implementation of the strategy. It proposes a number of high priority actions for implementation over the next four years that will deliver environmental and financial benefits.
Most notable is an investment of $2 million towards an Energy Performance Contract (EPC) to improve the energy efficiency of Council's largest buildings with a guaranteed financial return in the vicinity of $200,000 per annum.
Sustainable water management
As part of the Integrated Water Management Strategy implementation, a concept design for Macleay Park and a functional design for Chandler Park were completed in 2016-17.
Over time, these and other strategic actions will contribute towards ensuring a healthy, green and resilient City for current and future residents. Council developed the second action plan for the Strategy during the year.
Summary of other achievements:
developed the Waste Minimisation and Recycling Strategy and the Tree Strategy

created additional biodiversity sites at various locations including Hays Paddock, Koonung Creek Reserve and Willsmere Park

adopted an updated Sustainable Buildings Policy setting out sustainability standards for council owned and managed buildings

enhanced community understanding of key sustainability issues through delivery of Living For Our Future workshops and 2016 Sustainability Festival

strengthened resilience of local biodiversity and built connections in the community through delivery of the Backyard Biodiversity Project.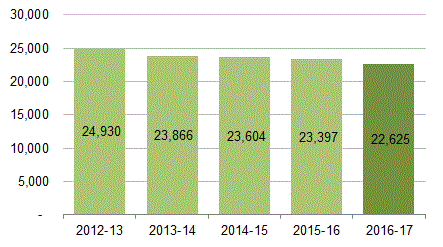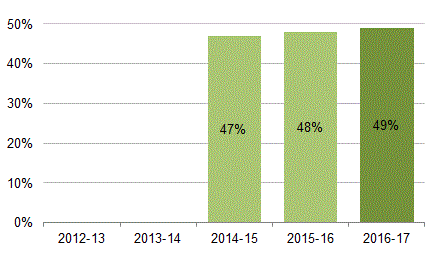 (Note: data was not available in 2012-13 and 2013-14)